Regular Price
Sale Price
$12.50
Unit Price
per
Sale
Back Soon
Our hand dyed fabric subscription club delivers a cut of your favorite type of fabric in new colors each month.

All fabrics are colorfast and pressed, and come with serged finished edges.  Only Zweigart premium fabrics are used.  
The Color club provides a mix of colorful fabrics throughout the year.
Billed on the 5th of each month automatically using the payment method (debit or credit card) you provide today at checkout. PayPal is not accepted.

If joining now, today's pre-payment covers your first shipment (March) shipment and you will not be billed again until April 5.

Prices shown do not include USPS shipping. Shipping charges will be calculated at checkout and will be applied be applied to each month's billing.

Please do not include any other items in your cart when checking out except for subscription club memberships.

Cancel, skip or modify your color/quantity preferences at any time.

Clubs ship beginning March 5. You will always receive a shipment notification email with USPS tracking number for each club shipment. If you currently subscribe to another club, we will automatically combine your shipments for you and adjust shipping costs.
Please read our FAQ for more billing and shipping details!
 Choose Your Fabric Type
Aida (14, 16, 18 and 20 counts)

Linen (28, 32, 36 and 40 counts) 

Evenweave (28 and 32 counts) 
Chose Your Fabric Cut Size 
Fabric sizes are approximate - some shrinkage does occur during the dye process. 
1/8 Yard (approximately 13 x 17 inches)
1/4 Yard (approximately 17 x 26 inches)

1/2 Yard (approximately 26 x 36 inches)
1 Yard (approximately 36 x 54 inches for linen, evenweave and aida 14 count; 36 x 43 inches for aida 16, 18 and 20 counts)
Please keep in mind that if you choose the evenweave or aida options, evenweave and aida fabrics always dye lighter than their linen counterparts!
Shipping

Unless specifically noted, all of our inventory is in stock and ready to ship to you immediately - usually on the same or next business day!
Fabric Dimensions

Standard hand dyed cross stitch fabric sizes (pre-dyeing measurements, some shrinkage does occur):

Fat Eighth (1/8) Yard = 13 x 17 inches
Fat Quarter (1/4) Yard = 17 x 26 inches
Fat Half (1/2) Yard = 26 x 36 inches
Full Yard = 36 x 54 inches
Colorfastness Information

In general, we recommend to always spot test hand dyed fabric and thread for color bleeding if you plan to wash your completed projects. Hand dyed materials are not guaranteed to be fully colorfast and some residual dye may remain in the fibers.
Share
View full details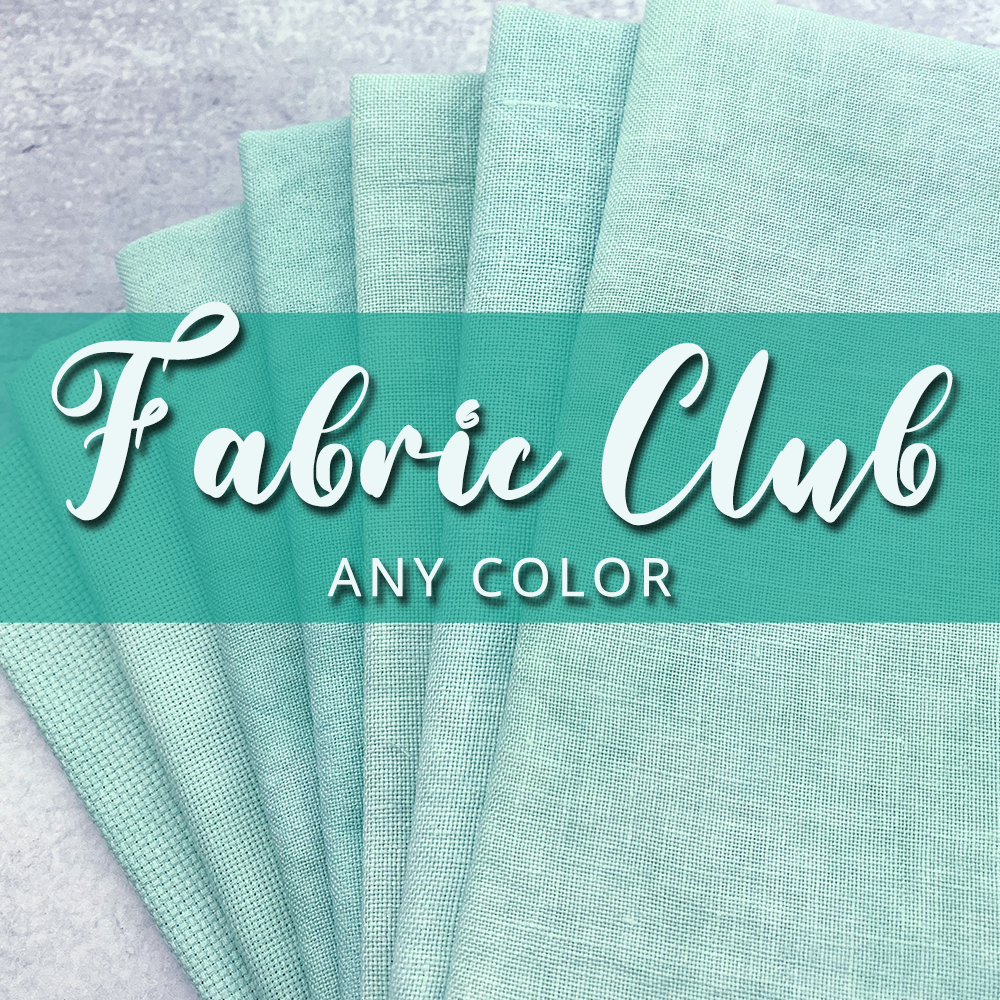 Fabric is divine
I absolutely love your fabric!! I am in the 14ct aida club so that I can share with my daughter, but I also would like to be added to your 36ct Edinbough club if possible.
Please email me ( [****]) when the club becomes available.