Regular Price
Sale Price
$6.00
Unit Price
per
Sale
Out of Stock
Our mystery thread grab bags are back! $1.25 per skein!
A mystery grab bag of 5 skeins of hand dyed cotton embroidery thread. Each skein measures 8 yards.
Each bag should not contain duplicate colors, but please note that if purchasing more than one grab bag, you may likely receive some of the same or similar colors in each. If you ordered packs last time in our last recent sale - you may receive many of the same colors as last time. 
If you order multiple packs, we will do our very best to make sure you get a nice variety and assortment.

IMPORTANT:

These skeins are often discontinued colors, or "off" dye lots which may have since been reformulated. Some colors may be shifted, or some may be more variegated than usual.
We strongly recommend that you label these threads when you receive them in such a way as to note that they are misdyed threads - future dye lots of the same thread name will not match. Marking the tag with a marker or highlighter would work well!
Due to the large number of packs available, these grab bags are not eligible to be combined with your monthly club shipment, the discount code will not work at checkout - thank you for understanding.
Our hand dyed thread creates lovely light and dark variations in cross stitch and embroidery projects, and are ideal for samplers, or lettering.  
Hand dyed in small batches on DMC 100% cotton using professional textile industry dyes. All threads are rinsed to prevent bleeding, but always test your threads first for color bleeding when wet if you intend to wash your finished piece. 
Shipping

Unless specifically noted, all of our inventory is in stock and ready to ship to you immediately - usually on the same or next business day!
Fabric Dimensions

Standard hand dyed cross stitch fabric sizes (pre-dyeing measurements, some shrinkage does occur):

Fat Eighth (1/8) Yard = 13 x 17 inches
Fat Quarter (1/4) Yard = 17 x 26 inches
Fat Half (1/2) Yard = 26 x 36 inches
Full Yard = 36 x 54 inches
Colorfastness Information

In general, we recommend to always spot test hand dyed fabric and thread for color bleeding if you plan to wash your completed projects. Hand dyed materials are not guaranteed to be fully colorfast and some residual dye may remain in the fibers.
Share
View full details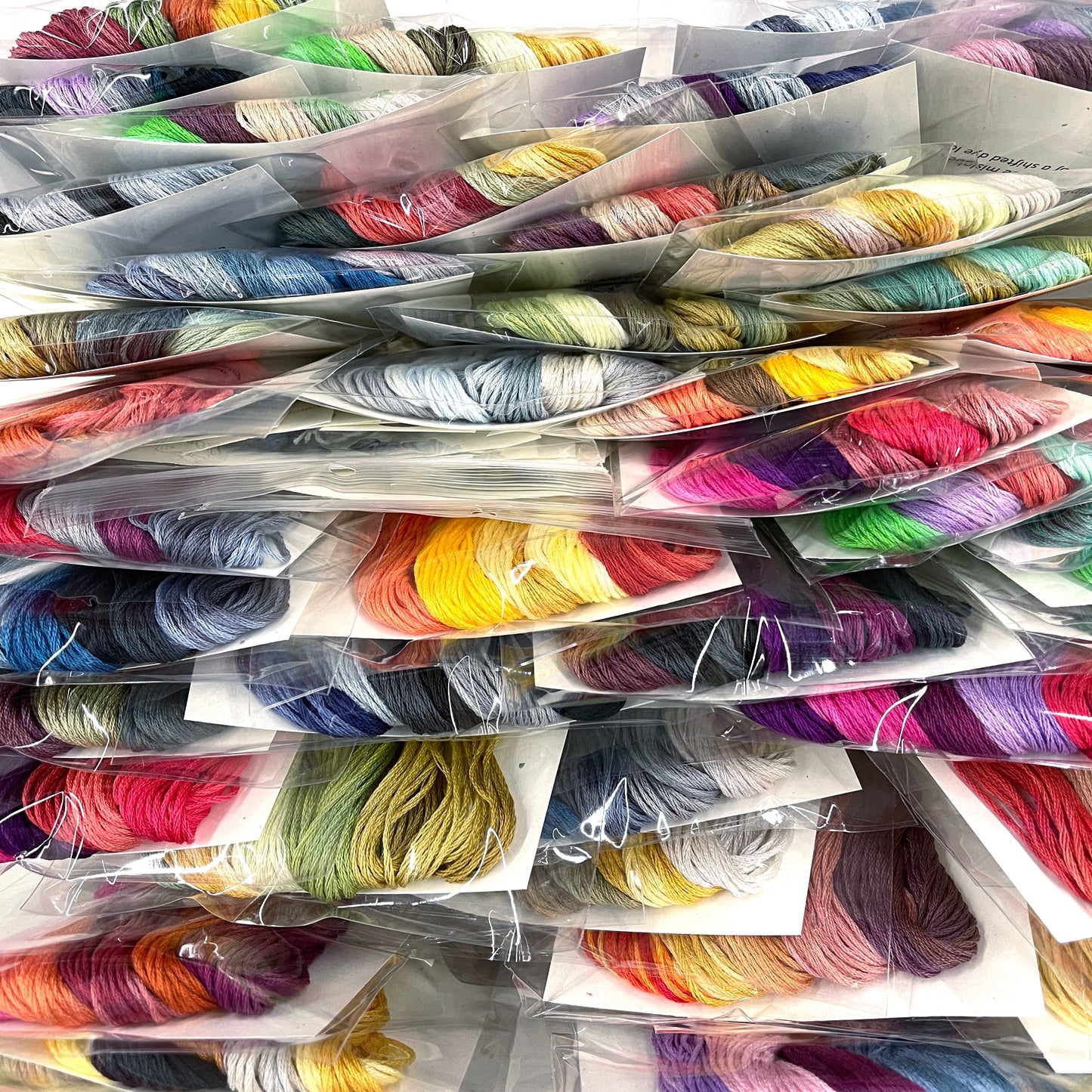 Grab bags
Amazing colors and fast shipping! Love these grab bags!
Grab Bag
I did a floss grab bag and they were amazing!!! I purchased 2 of the and they sent some beautiful colors. Always on the lookout for these grab bags, such a good deal. Thanks!
Absolutely Scrummy colors
I did a trial pack (I chose 6 colors) as a test to see if I liked the colors and quality. Both are superb and I cannot wait to order more.
The colors are so full of life and such a good quality. Thank you.